Clickingmad Makes a Splash at the Shropshire Partners In Care AGM with Thumbs Up on their Rebranded Stand Design
Clickingmad, a leading digital agency based in Bridgnorth, is delighted to announce its participation and exhibition at the Shropshire Partners In Care Annual General Meeting (AGM) held on the 21st of September, 2023, at Shrewsbury Football Club.
This year marked a significant milestone for Clickingmad as it unveiled its rebranded stand design for the first time at the event. The response from delegates and fellow exhibitors was nothing short of outstanding, with attendees praising the innovative and visually appealing design that reflects Clickingmad's commitment to modern web solutions.
As part of its involvement in the AGM, Clickingmad proudly showcased its deep-rooted expertise in the care sector. With many years of experience, Clickingmad has been a trusted partner to care providers in Shropshire and beyond. Currently working on a new website for Shropshire Partners In Care, Clickingmad has demonstrated its commitment to delivering cutting-edge digital solutions tailored to the unique needs of the care industry.
In addition, having worked with Coverage Care, Shropshires leading care provider for over 16 years emphasises their sector knowledge and passion to help all care providers get the very best from all things digital.
Shaun Carvill, Managing Director of Clickingmad, expressed his enthusiasm about the event's success, stating, "We were thrilled to participate in the Shropshire Partners In Care AGM and to present our rebranded stand design to the delegates and fellow exhibitors. The overwhelmingly positive reaction was truly heartening and reaffirms our dedication to staying at the forefront of web design and development."
Shaun further commented, "We're excited about the opportunities that arose during the event. We received several very good enquiries for our range of digital services, showcasing the increasing demand for high-quality web solutions in the care sector."
Clickingmad looks forward to continuing its partnership with Shropshire Partners In Care and providing innovative digital services to support care providers in Shropshire and beyond.
Which stand is your favourite?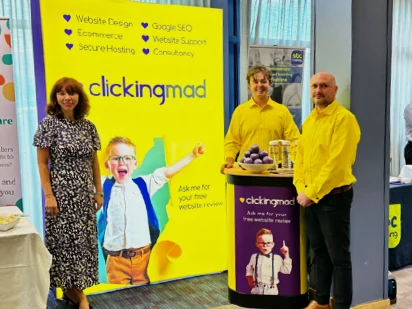 or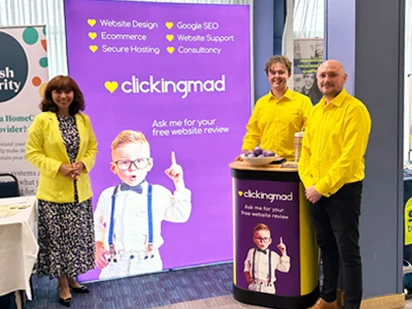 Email your answer to This email address is being protected from spambots. You need JavaScript enabled to view it.